Welcome back.  So much has happened since my last post that it's hard to know where to start.
Yep – I did it.  I've retired from trying to manage between quilt shop, teaching, judging, being a wife and mother and has transitioned this part to someone new! I sold my quilt shop!  Corli, congratulations on now having your own quilt shop.  Keep your fingers crossed that it will allow me to spend more time quilting and blogging.
August is drawing to a close and what a busy few months it has been!  Good months filled with lots of classes, lots of sewing, lots of cutting and lots of using up stash fabrics.  I have not shared any blog posts with you during these hectic months, but I have posted images on Facebook and Pinterest.  Shame on me!  So if you are on either of these platforms be sure to click the links on my website.  (www.quiltwithmari.co.za).
Here is a recap since the last blog.  Since I have been so busy I'll post the blocks according to the months.
Winter in the Free State means Quilt in Clarens.  The annual festival has grown from childhood to adulthood.  It is the only annual quilt festival in the Free State and it has grown over the last 10 years from 7 to 330 participants.  I taught at Quilt in Clarens for a  week – every day!  This was a week filled with quilting and enjoying the beautiful scenery.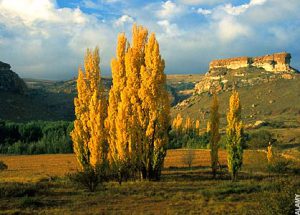 What an absolute buzz it was.  I met up with so many people I had corresponded with online since my web started, old friends and made lots of new ones.  The venue for the Festival moved to the newly renovated Primary School.  Alae, thank you for having the vision to do this.  The classrooms were spotless and sunny and there was enough space for teaching, for the vendors in the hall and to have a look at all the quilts on exhibition.  The festival has a unique relaxing atmosphere due to the locality and the personal touch to everything.  But wait there is more! We were all hoping to snow in so that the Festival could last for another week, but that did not happen!  Just 2 weeks after we left the snow came! I can't post pictures of all the classes and what they did.  I am going to post a single portrait study made by one of the students.  They have all made amazing works of art. Just too many, but I have posted the students' work on my Facebook page.  (links at the bottom of the pages on my web site).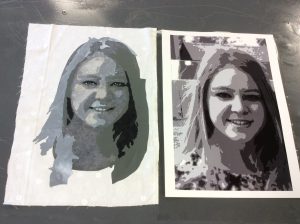 Alae, thank you for the hospitality, warm bed (it is verrrry cold in Clarens), good food and looking after me so well in your guest house.  It is much appreciated and I can't wait to be there again next year.
After Clarens my husband and I attended a wedding in Omaruru in Namibia.  This was extended to a 2 week holiday! Namibia is such a beautiful country.  Dry and barren, but beautiful beyond words with the friendliest people. We visited the Spitzkoppe, stayed in Swakopmund for a week, viewed the sunset at Henties Bay and went to the Moon landscape  amongst others.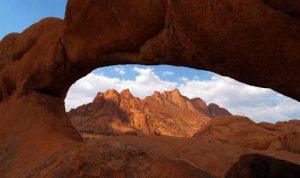 I even met up with my quilting buddy, Antoinette Kriel, for a bush breakfast on her husband's birthday.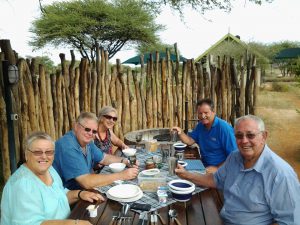 I took some handwork with me, but needless to say – I have not done much!  I love doing landscapes and the trip was just what I needed for inspiration. Olivia said: "My goal is not to be famous before I leave the earth, but to touch a soul by every eye laid on a piece of my art".
Enjoy looking at other quilters' art and enjoy making your own.