Welcome back.  You may be asking and now….   Like with all things new the previous post "disappeared" and I have decided to re-post it.  Enjoy reading it once again.
I taught at the Quilt Camp in St Francis Bay last week (May) and enjoyed every minute of it.  It was the nicest bunch of students!
We made Wild Roosters & Chicks.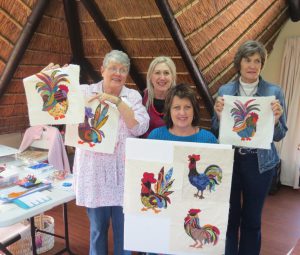 Did advanced free-motion quilting.
And allowed the Guys and Girls to have some mischief amongst the curves.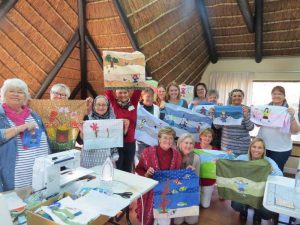 The funniest event ever was staged at the Quilt Camp when the three teachers were given an hour to complete a quilt top (0.5m x 0,5m) with a surprise parcel containing 6 fabrics and a theme.  To throw a spanner in the works, Antoinette decided that the teachers' husbands had to help the teachers for 15 minutes.  Since my husband was not there, Antoinette's husband, Willem, was part of "Team Mari".  I had so much fun doing the quilt and sabotaging the other teachers.  It was hilarious when I had to confess at the Farewell Function.  They both promised me sweet revenge, but we are still friends, admiring each others' abilities and techniques.  I now have till the end of June to complete the quilt (which I have done). It will then be put up for auction to generate funds for next year's national Quilt Festival.  It was a well-organised event and I was treated like a queen.  Thank you Antoinette for making me feel so at home and catering for all my needs.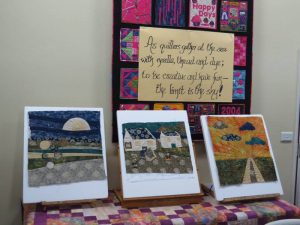 I will be teaching extensively for the next few months.  Have a look at my teaching schedule to book for classes and information.
Enjoy a week filled with fabric and many quilts.