Welcome and thank you for visiting my blog again.
August was fully packed with classes. It started off with my Beginners class at home.  They have completed their quilts and are now ready to start quilting them. I can't believe how beautiful they are! It is the same pattern but everyone has put her own mark on it. In my classes everybody is allowed to work in the colour they love and design their own quilts.  Here are some of them, but you can view them all on my Facebook page.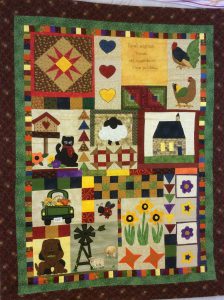 I have 2 permanent quilt classes at home – once a month.  During the winter months the quilters don't always feel productive, but these quilters were working non-stop. They made bags, did textile art quilts, landscapes and even more bags!  Even I decided to make myself a handbag.  I absolutely love it!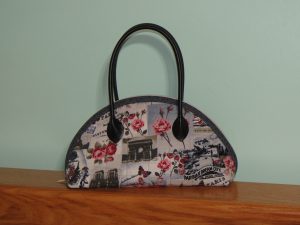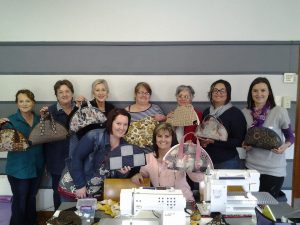 It is just big enough not to put a lot of stuff in it.  Does that sound familiar?  All women tend to do that!  And if you are a quilter there will be most likely some handwork in it.
Then it was off to Hoopstad to teach a free-motion quilt class.  After two days of stiff shoulders and tired bodies, the end results were stunning.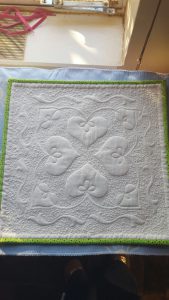 This is what a beginner did after only 2 days of free-motion quilting.  I am so proud of them.
I was also honoured to be asked to teach and judge at the "I'd Rather be Stitching Retreat" in Potchefstroom.  Antoinette Kriel was my co-judge.   Congratulations to all the winners!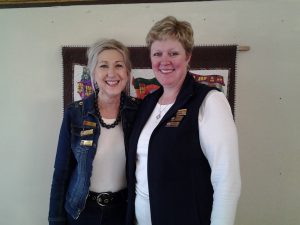 I also taught the Funky Houses class.  I love it when the quilters are enjoying a class.  I love to hear when someone falls in love with a project that they have made in a workshop. We as teachers like to hear that kind of feedback and it only motivate us to give our utmost!
You won't believe it, but I had a chance to attend a workshop by Mackie Cilliers.  What a blessing!  Macky and I caught up on a chat that was long overdue and I enjoyed her class so much.  Watch this space for my little corn plaster embroidery quilt!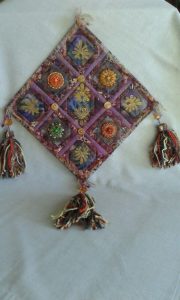 I am currently working on a series about "How to choose fabric".  Many quilters are struggling with this and choosing colours to make that wow quilt.  If you would like to follow this series of tutorials,  regularly look at the tutorial page for an update.
I am a firm believer in keeping memories alive. So in my quilting I make quilts with a memory or reason.  Either way, my heart is in everything I create, with hopes of sharing it with you.
Enjoy your quilting!