This has been a busy year so far and the last two months were even busier. I was starting to wonder whether I would ever post again, but here I am like the proverbial bad penny. This has really been the most amazing two months with one wonderful thing after another. Firstly I have to thank all the people who left me such wonderful comments on my last post and all the emails I have received. Your kind words mean a lot to me.
Sharing other people's creative experiences is a very special part of my life and I am extremely grateful to be surrounded by people that make and share their quilts with me This year has been full of wonderful opportunities near and far to teach quilters and judge quilts in a wide variety of places.
I am so proud and grateful that my classes have been so well attended, full of energy, creativity and fun. It is also wonderful to watch students re-enrol for your classes. It all started with my local Quilters' Guild. The Oranje Quilters' Guild had a Spring day on the 3rd of September. Wild Roosters and Chicks were made in a very relaxed manner which the students enjoyed so much. In between making Roosters and Chicks, we attended a demonstration or two and even had a tea party.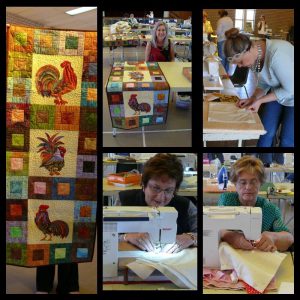 Then it was off to Potchefstroom to judge the quilts on display at the Museum. The entries was of such a high standard. It was also the first time that I judged quilts that have been hanged already. Iessie Steenberg was my co-judge and Paul Schutte completed the judges group with his legendary knowledge and expertise.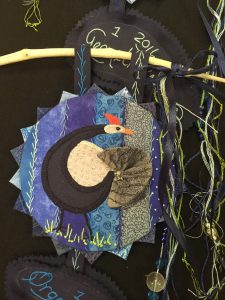 The most amazing ribbons were made by one of the local quilters. I could not stop looking at them.
Don't you think they are extra-ordinary?
I would have loved to be awarded with such a beautiful masterpiece in itself. Congratulations to all the winners.
Three days later I jumped on the plane heading for Mauritius, accompanying my husband and attending a conference. The weather was not that great, but I still had four fully-packed days enjoying sightseeing in-between all the functions.  It was just what I needed before the next judging – and teaching appointment.
Two days after landing back in South Africa I was once again on the plane, heading to the Spring Festival in Port-Elizabeth. This was one of the highlights of the year!  Shan Fox, Antoinette Kriel and I judged the Spring Festival quilts. The standard was exceptionally high and I enjoyed two days of judging. Thank you Erina and Roma for organising such a well-oiled exhibition and judging session.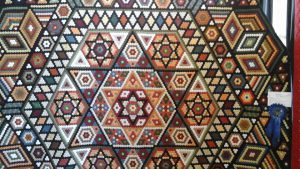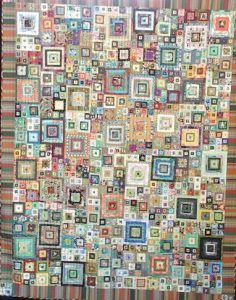 Some of the beautiful quilts on display.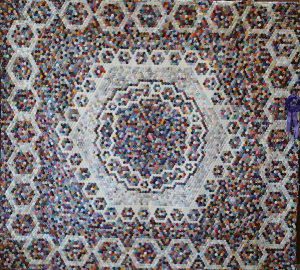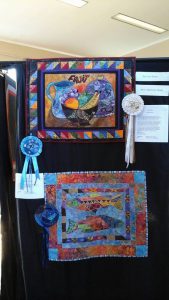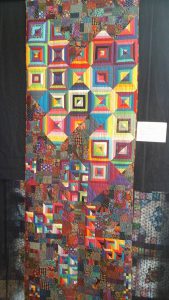 Then it was time to start teaching.  What an absolute blissful week I had teaching the different classes.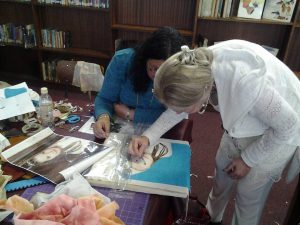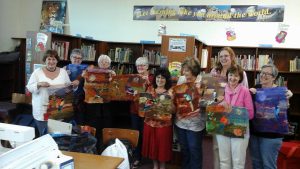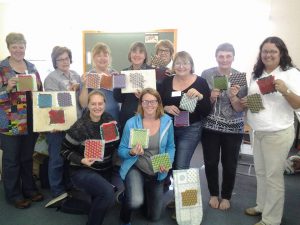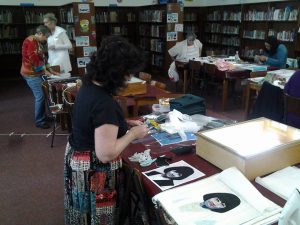 It is interesting to note how the interests and studies of our lives translate into the stories of our quilts.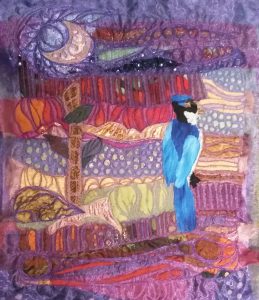 The developing projects offered excellent eye candy!  Again, it boggles the mind to see how many ways there are to express ourselves with textiles..
It was a wonderful exhibition and I enjoyed it thoroughly. Afterwards I visited the vendors – what an experience it was. In spite of owning more fabric and books than anyone has a right to (I just sold my quilt shop a few months earlier) I was bedazzled and bought even more. I met some incredible people and know they will become lifelong friends. One being my hostess for nearly two weeks – Lynne. I felt so at home…and the coffee was superb!
So if you are out there disappointed that you have missed out on the fun, stay tuned.  I am definitely back next July, teaching at the National Quilt Festival…maybe a bit earlier.  Keep an eye on my teaching schedule.
I also taught several classes in my home town, Bultfontein.  This is done once a month, but since I have 3 groups to teqach, it ends up to a class almost every week.  We did Let's do Birds, Landscapes and even made some handbags. I also took a class with my quilt group, the Lappoppe, and learned the technique of batik.  We had such fun doing it.
Then it was of to Hoopstad for the last class of 2016 before going to hospital for an operation long overdue and postphoned several times.  The quilters made Funky Houses and it was one of those remarkable classes!Everybody enjoyed it and showed me the quilts they had made in my previous classes. This was really a highlight for me! Just look at the wonky, funky houses that they have made!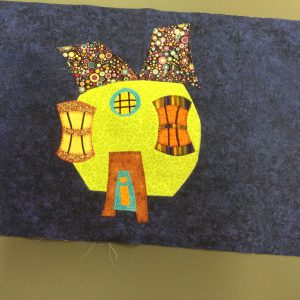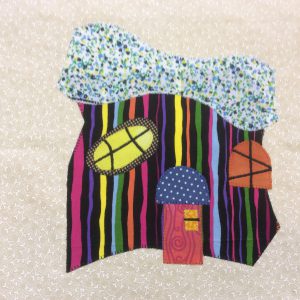 Remember to subscribe to my newsletter (at the bottom of the web pages) so that you can receive a notification on site updates.  You can also click on the Facebook icon to see all the work done by my students. There are amazing quilts.  Please leave a message if you have enjoyed this blog by simply clicking on the "Login" tab.
It is true: No quilt is made without at least some drama.  Every quilt has a story. Keep on making quilts and creating stories for generations to enjoy!