I looked at the calendar and thought…4 months of 2017 gone…poof! What the heck! There is always so much to do and so many things to talk about.  Where to start?  First I had to start teaching again!
Teaching and travelling has its moments…good ones and bad ones. Being back home the special moments of my travels float through my mind as routine resumes.  People, places and things leave an impression that reshapes our perception of the world. My focus is always quilt-related and one of the things I appreciate the most is how easy it is to move among quilters.
My teaching schedule started with the Moot Quilters' Quilt Retreat in Pretoria.  For a weekend I was "adopted" by a group of women who enveloped me into their inner circle as if I had been there all along. From the moment I have been picked up by Anna and her husband at the airport I knew things were going to be exciting!  Although it was obvious that the retreat had been planned for a long time, there was no sign of last minute stress. This retreat is definitely one of my favourites. It took place at the Joy Unspeakable Wedding Venue in Pretoria. I taught a bag class on the Thursday night and the quilters went to sleep with a bag in hand – happy and thrilled at 23:00.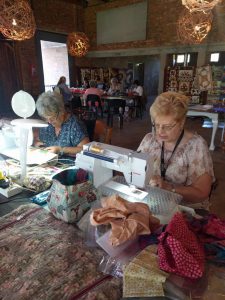 On Friday and Saturday we made Wild Roosters and Chicks. One of my favourite parts of teaching is seeing the wide variety of fabric and colour combinations and each one turned out so great! And the creativity of these ladies…..what can I say? You nailed it girls!
Estie, and her sister, Vea, were responsible for our well-being and spoiled us rotten. Special gifts on our beds and at the dinner table add a personal touch. And who says quilters can't enjoy French cuisine. Just like last year the tables were decorated with a quilting theme and the "volksvreemde" food superb! New friends were made and some are even travelling to Port Elizabeth to take a workshop with me at the National Quilters Festival. Thank you, girls,  for being an unique bunch of quilters.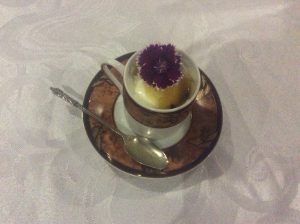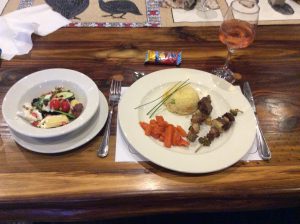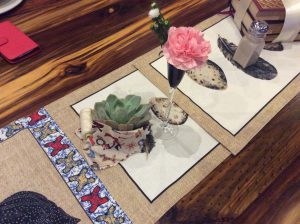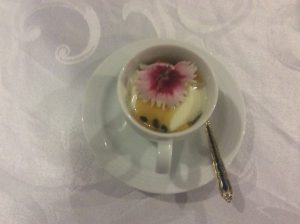 Thank you, Linda and your helpers, on a task well done! The quilting part was as it should be…full of ideas and creativity.  But the real part was the quilters that make it happen.  I have such a cosy spot in my heart for the Moot quilters!  Thank you for having me and sharing your lives so generously.
And then of course…travel hiccups! I arrived at the airport well in time to fly  back home only to be informed that my flight had been cancelled.  And guess what… my travel agency was closed for the weekend!  The airline gave me the emergency number for the travel agency.  Since they are closed on weekends they could not help me without the necessary authorisation!!!  With the help of the airline we managed to get me on a much later flight.  I was stuck at the airport for the whole day.  Well, I did catch up on all my emails.  When it was time to depart the flight was delayed for another hour.  Eventually I arrived in Bloemfontein very late that night and still had to travel back home, alone on a very dangerous road at night, because I was teaching in Bultfontein the next day.  Thank you, Cemair, for treating me like a VIP and trying your utmost best to get me home.
The next day I was teaching a bag class in Bultfontein. My beginner class decided to make a quilt bag. Their enthusiasm is remarkable. I am sure any quilter seeing them quilting will be inspired.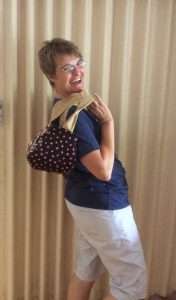 Even the young ones took part and showcased their mum's masterpieces.  Little quilters in the making!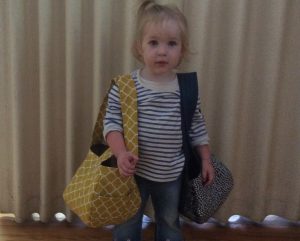 And then they decided to tackle the Wild Rooster and Chicks workshop. We enjoyed 2 days of laughter, quilting and very unique roosters and chicks.  They have definitely been promoted to the quilters' league.  These girls are not beginners anymore.  Well done, girls.  I am so proud of you.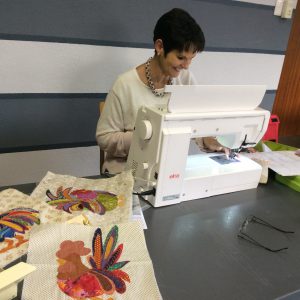 I have put up a free pattern to go with the tutorial on how to choose colour and fabric for a quilt. I hope it will inspire you to make the handy little bag from fabric usually going to the bin.  A lot more is coming your way.  Enjoy the process of making it.
I am teaching at the National Quilt Festival in Port Elizabeth at the beginning of July.  I am teaching two workshops – Owls in the Forest and Unlock your creativity (an art quilt). Remember to book your workshop.  All bookings are done through Computicket.
Go to Facebook and then go to Quiltwithmari OR
Click on the Facebook tab at the bottom of the page OR
Contact me for more info
Please enrol for the newsletter to be informed about updates at the bottom of the page. You can also leave a comment or ask for help by logging in. (Just use your name and a password and voila!)  Also go to the Facebook page (also at the bottom of the page by clicking on the icon) to see all the quilts made by quilters attending my classes.
Sharing other people's creative experiences is a very special part of my life and I am extremely grateful to be surrounded by people who make and share and live life. Till next time, keep well and enjoy your quilting.