When I was a young child my grandmother taught me how to embroider and to crochet. She was an avid stitcher for as long as I can remember. I was never a great crochetier, but I loved doing embroidery work.  I completed a few small projects learning how to make the back as neat as the front.  What I did not realise back then, some seeds had been planted within me – seeds of enjoyment and taking great delight in tiny stitches.
And then I stubbornly decided that needlework was not my forte.  I was much more interested in chemistry and maths.   Being a professional woman appealed to me. And it was much, much later that needlework surfaced  in my life again. I started my second life! I began to quilt and as they say: The rest is history!
For a while it has been one of my goals to teach children to quilt.  Sometimes life gets in the way and I have not quite gotten around creating a course till two young children crossed my path.
In my local quilt group babies and young children are allowed. The moms bring their young ones to our quilt meetings and they play in the hall under supervision while the moms do their quilting. And so young quilters are born!
I developed the Owl in the Forest class and while the members took the class one six-year-old lady, Clara Nel, was watching what we were doing. Needless to say the owls appealed to her and she was asking if she could also make owls.  She has just received a sewing machine as a present and was so eager to do the class.  And so my first student arrived! On her own and with the encouragement of her mom she made her first owl.  She was allowed to pick her own fabric from her mother's stash and "build" her own owl.  Her mom took a video of her sewing.  Just have a look.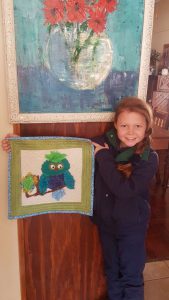 6ee73e9e-a872-4266-87c3-dd61e3d017aa
Click on the link to see her quilting.
I was stunned.  Children have the ability to create.  You just need to guide them.  A new quilter was born!
And then I taught the same class at the National Quilt Festival in Port Elizabeth. One day I received a call and they asked me if I would mind if a little girl enrolled for the class.  There were no children classes.  She would be using her mother's sewing machine and they promised me that she would be able to sew.  I thought about Clara and said: Yes.  I was a bit worried because it was a full class and she was only six years old.
And so Elandri du Toit became one of my students.  Her mom owns a quilt shop and she was obviously familiar to quilting. She started with enthusiasm and was way in front.  She was literally running from her table to the ironing board and back.  Her mother was on constant duty to send embellishments and fabric.  She had chosen her own fabrics, listened to every word I said and built her own owl. It was a two-day class and I decided to buy her an owl hot water bottle. That was given to her on the start of the second day.  She was so pleased and it sent her onto day two. Halfway through the day the fatigue of taking a two day National class kicked in.  She fell silently asleep on her table.  We left her to take a power nap and boy when she woke up – it was running and working again. She completed two owls to everyone's amazement and everybody agreed that she is an angel and that she should be allowed to do a class again.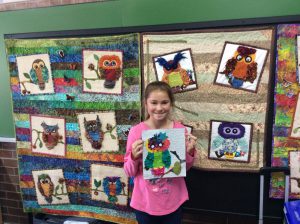 I've learned so much through these two amazing girls and I would love to share it with you.
Children learn by imitating the adults in their lives.  Our future lies in the bright, inquisitive minds of our youth.  All we have to do is to light the spark in them, send them down the right path and watch them grow into successful artists in their own right.
Children are curious and keen to learn about everything and anything. Identify what is of interest to them and you will be able to grab and hold their attention.
Learning through play offers a meaningful way for children to have fun as they learn and develop.
Make sure you encourage children so they feel confident.
Praise their perseverance when they find something difficult so they don't give up.
You can really build strong relationships with children by putting yourself in their shoes and entering their world.  Crouching down and being at their eye level will help you connect with them.
Allow the child to pick every aspect of the sewing project to be undertaken.  This may be an odd combination of fabric and colours, but that's okay. Children are more likely to enjoy the project if they feel they were a part of all the decisions.
The sewing project should be about the child – making sewing fun and exciting.
We have a duty to pass our love for quilting on to our children and grandchildren
My grandma was the one who really inspired the love of working with fabric and thread – something that will always be a part of me. It just took me many years to recognise it.