PROJECT 1 : SELVEDGE BOX BAG: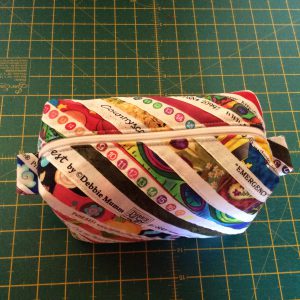 Fabric Requirements:
13" x 17" batting
13" x 17" lining
12" (40cm) zip
2 x (4" x 2") piece selvedge for the tabs
8½" x 2" for the binding
Lots of selvedge strips
Method:
1.  Arrange the strips diagonally on the batting overlapping the previous strip. Extend the  strips past the edges of the batting.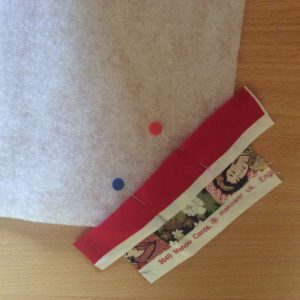 2.  Stitch.
Repeat till you have covered the batting  with selvedge strips.
3.  Block to 12″ x 16″ keeping the off cuts to make the tabs.  (2″ x 4″)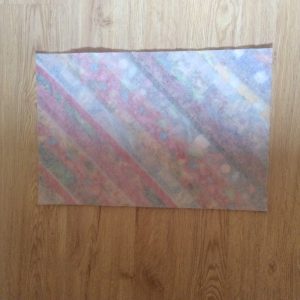 4.  Add the zip.
Place the selvedge panel right side up on the table. Put the zip face down on the short side of the selvedge panel. Then put your lining face down on top.
TIP:  I always use a longer zip to prevent any openings and to simplify the process.
4.  Use a zipper foot and stitch close to the zipper.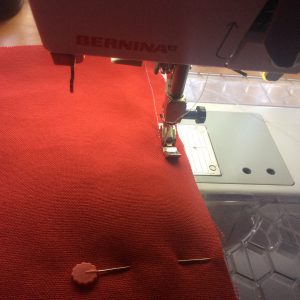 5.  Fold the selvedge panel and lining away from the zip, pin and topstitch.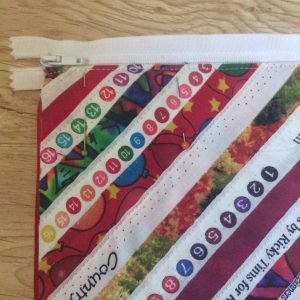 6.  Fold the selvedge panel in half, pin the end of the exterior fabric and the lining on the other side of your zip (the short side not sewn yet). Repeat steps 4 -6 .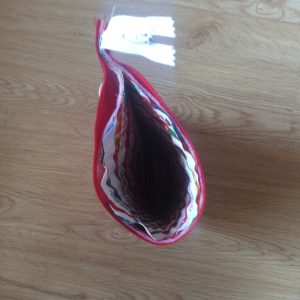 7.  Your bag will now look like this.
8.   Turn inside out.  Pin the open sides together.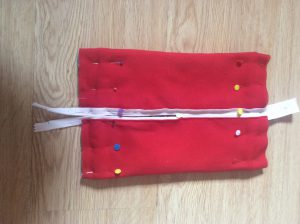 9.  Cut 2 tabs from the off cut fabric.
Fold in half lengthwise and stitch sides together, leaving top side open.
Turn inside out.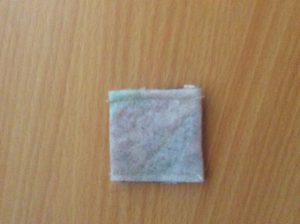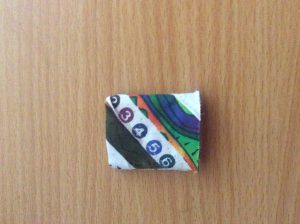 10.  Place tabs as shown in the picture, making sure that it is dead centre.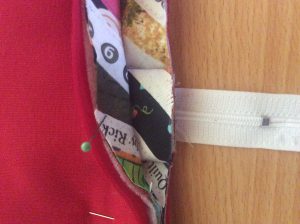 11.  Stitch sides together.
VERY IMPORTANT : Open zip before stitching  to be able to turn it inside out again!!!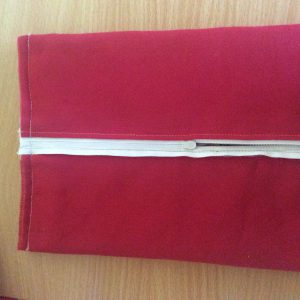 Attach binding to the sides as shown. (Pin right sides together, sew, turn over and hand stitch in place) to neaten the edges or overlock the edges.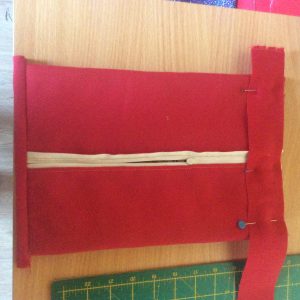 14.  For the next step you have an option:
Option A:
Fold the sides flat as shown to create a triangle. Draw a line using a ruler and measuring 1½".
Stitch on the drawn line.
Cut of the ears leaving a ¼" seam allowance.
Bind the raw edges or overlock the edges.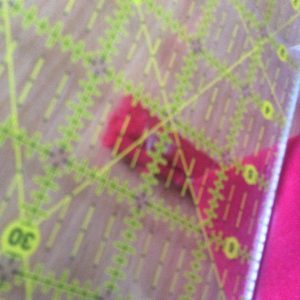 Option B:
Cut a 2″square from the corners as shown.
Fold the fabric so that you will have a straight seam.
Stitch.
Bind the edges or overlock the edges to neaten it.
15.  Turn right side out and viola….your own selvedge box pouch. Well done!