INTRODUCTION:
Choosing fabric and the right colours for a WOW quilt can be daunting.  With this series I am trying to help beginners, but seasoned quilters are more than welcome to join.
Before I start with this series, I would like you  to read the following blog.  This is a very good article.  Hop to Angie's blog and enjoy the reading. It will give you a good insight before I post the first tutorial.  Thank you Angie for giving me permission to link your blog.
http://www.gnomeangel.com/how-to-choose-your-fabrics-for-the-farmers-wife-1930s-sampler
2.  USING SELVAGE MARKINGS:
This edge of the fabric (selvedge) of the fabric is often thought of as unusable, cut off and tossed in the bin. Recently quilters have discovered new ways to use the selvedge edge, not only for creating fabulous projects but to help with choosing the correct fabric for a project.
The printing along the edge (selvage) of your fabric is not  just branding for the manufacturer.   It is a series of clues to help you pair up fabrics for a  project. This is a very handy tool for beginner quilters.
Normally the selvage has the following printed onto it:
The name of the fabric, the line it is from, the designer or manufacturer, phrases and a series of coloured circles. These circles or dots are also used as registration marks to help insure the individual screens and printing designs are all matching up.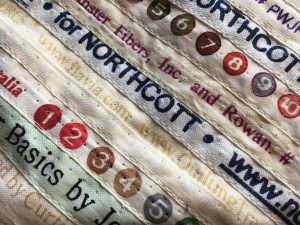 You can hold up the selvage edge with its coloured markings to another fabric.  If the colour appear to be the same, then the colours might work well together in a project.
If you have for instance a floral design and would like to choose some colours to go with it, simply match up the colour of the solid or tonal to the colours on the selvage of the floral print. And there you have it: A perfect match!
Save the selvedge edges and piece them together to make beautiful projects.  Go to the free projects page for a free pattern.