Tutorial 3: How to sew a precise ¼" or scant ¼" seam:
Sewing a precise ¼" seam is most important in quilting. To save time and avoid frustration, be sure that you are always stitching an accurate ¼" seam.  Even if your machine has a ¼" foot, also do the test for accuracy.
Rotary cut 3 precise 1½" x 6″ strips of fabric.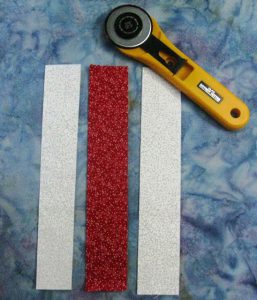 Sew them together with your ¼" foot.
Press the seams open.
Measure the width of the middle strip.  The middle strip should measure exactly 1″ wide.
If this measurement is not correct, cut new strips.
Make adjustments until your middle strip is exactly 1″ wide. It is often possible to make an adjustment by simply moving the needle to the left or the right. The fabric strips can also be moved across the needle plate.
Mark the needle plate with a piece of masking tape or write down the correct needle position for future reference.
_________________________________________________________
Tutorial 2: How to press fabric
One of the most common causes of frustration for quilters is a result of pressing issues.  The process of quilting involves a lot of pressing.  The fabric is  pressed before cutting.  The seams are stitched and the stitches are set helping to achieve a flat seam. Seam allowances are then pressed either open or to one side.  The seam allowances are usually pressed to the dark side. To reduce bulk the seams can also be nested at the intersections.  If errors occur during each of these stages, things can go downhill very quickly!
To help you I've included a video from the Connectingthreads team. Pressing is shown exactly as it should be done.  Thank you for the permission to add this video to my blog.
http://www.connectingthreads.com/tutorials/Pressing_Tip__D28.html
_________________________________________
Tutorial 1: How to tie a quilter's knot
Do you spend an inordinate amount of time tying and retying a knot at the end of thread when you are hand sewing?  Trying to get knot upon knot to line up with the older stack of knots you have tied, but ending up with a line of knots like sausage links?
Thank you, Melissa, for giving me permission to add your video link to my blog.
She is going to introduce you to the quilter's knot.  This little trick is going to save you so much time when you are sewing.  It will add minutes to your life.  At least 10 minutes you can spend on drinking coffee with me!  So enjoy, learn and use those extra minutes with me.
You can also visit Melissa's site on the following link: